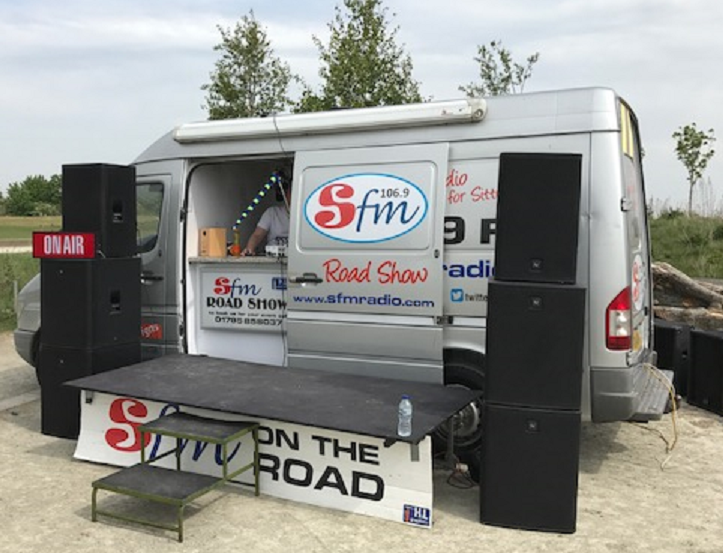 *** 2023 Roadshow Events Attended ***
MON 08/05/23   Coronation Bank Holiday Car Show @ Meadowfield School
SAT 17/06/23      The Harrison Staines' Memorial Tournament @ The Appleyard Sports Pavilion
SAT 29/07/23      LIVE from The Chickenstock Music Festival on The James Waters' Saturday Show
SUN 30/07/23     The Artisan Market @t Murston Heart Old Church
SUN 10/09/23     'Colour Me Purple' with Friends Of Wisdom Hospice @ Milton Creek Country Park
SAT 16/09/23      Demelza Open Day 2023 @ Demelza Hospice
FRI 03/11/23       The Annual Firework Display @ Tunstall Primary School
- 0 - 0 - 0 - 0 - 0 - 0 -
Why not book our Roadshow for your next event in 2023/24?
The 106.9 SFM Roadshow can help your event stand out from the crowd.
We can provide music, entertainment and competitions throughout the day at your event and we can even broadcast LIVE from your event too. All we ask for is a donation to help us with our fundraising to keep YOUR local radio station On Air!
The dimensions of van are H: 2.66m (8' 9") x W: 1.85m (6' 1") x L: 5.3m (17' 5") 
+ an extra W: 1.35m (4ft 5ins) x L: 2.4m (8ft) with the stage out. 
For further information please email our Events Team now by clicking here.