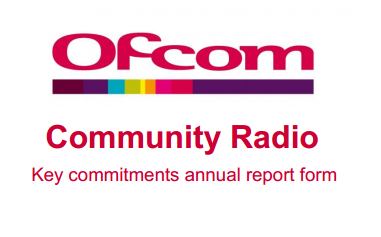 106.9 SFM (Sittingbourne Community Radio Ltd) is required by the radio licensing regulator OFCOM to produce an Annual Report relating to our Key Commitments, which were set out as part of our licence application.
Character Of Service
106.9 SFM aims to provide Sittingbourne with a radio station that reflects the lives and aspirations of our community with a broad range of programmes that inform, stimulate and entertain. Our programme schedule consists of a mix of community information, news and current affairs, sport, music and specialist programmes and issues such as the environment, health, crime prevention, religious and social affairs, consumer issues, women and young people, education, community involvement, the regeneration plans being developed for the area and day to day events.
106.9 SFM's key aim is to provide our community with a strong locally focused full service radio station, designed to truly reflect the identity of the area with a balanced mix of music and speech. Daytime output is a blend of Adult Classic tracks spanning the past 6 decades (60's, 70's, 80's, 90's, 00'sand the 10's - appealing to the wide cross-section of our community). Speech will be locally focused news, sport, business, community information, discussion, debate and education with guests throughout our "In The Bourne" Programme. We provide a unique localised sound, which is unavailable on any other radio service in the locality.
Programming
Output will typically comprise 80% music and 20% speech ('speech' excludes advertising, programme/promotional trails and sponsor credits)

Music output will comprise music from the 1960s through to current chart music. Specialist shows will be featured and cover genres such as RnB, hip hop, dance, garage, northern soul, country and rock. Local bands and artists may also be featured.

Speech output will include local news and community information, sport, arts, discussion, debate, current affairs and local issues.

The service will typically broadcast live and original output for 16 hours per day. (Live programming may include pre-recorded inserts, if applicable). The majority of the output will be locally produced.
Social Gain Objectives
Community Radio Order 2004: "It is a characteristic of a community radio services that they are local radio services provided primarily for (a) for the good of members of the public or of particular
communities and (b) in order to deliver social gain, rather than primarily for commercial reasons or for the financial or other material gain of the individuals providing the service."tt
"(a) the provision of sound broadcasting services to individuals who are otherwise underserved"
106.9 SFM will give members of the target community opportunities to voice their concerns and opinions on issues that affect their daily life in Sittingbourne. 

The range of programmes forming part of the service will have a local emphasis.
"(b) the facilitation of discussion and the expression of opinion;"
The station will provide an accessible medium to support Sittingbourne's diverse communities to give them a voice and opportunities to raise issues of concern.

Open debate and discussion will be encouraged during programming and listeners will be invited to participate through Text, Email, Twitter, Facebook and occasional phone ins.

The station will invite local organisations to participate in programming.

"(c) the provision of education or training to individuals not employed by the person providing the service;"
In-house training will be made available and accessible to any individual or group seeking to become involved with the station.
Training will cover radio skills, confidence building, presentation skills, broadcast law and other topics relevant to community broadcasting.
"(d) the better understanding of the particular community and the strengthening of links within it".
The station will form links and partnerships with appropriate local bodies such councils, local schools, police and businesses.
Opportunities will be offered to local groups and organisations to highlight local causes, concerns and opinions.
Local employment opportunities will be promoted.
Access And Participation
A range of volunteering opportunities will be provided and training will be given for each role. Volunteers will be welcomed from all sections of the target community.
Accountability to the target community
Listener feedback will be sought through the station website and On Air, as well as through direct contact with the station's staff and volunteers.
The station's complaints policy will be publicised On Air and will be available on the station's website.

The station will give members of the target community opportunities to voice their concerns and opinions on issues that affect their daily life in Sittingbourne.